Subsurface interpretation software
Bringing confidence and intelligence to
your subsurface interpretations.
Our goal is to provide the world with easy to consume, intuitive and technically accurate software solutions, for the interpretation and management of all types of subsurface resources that our customers love to use.
Software for Collaborative Exploration and Monitoring of Any Subsurface Terrain.
WELL ANALYSIS SOFTWARE
INTERACTIVE PETROPHYSICS (IP)
Fast, accurate well analysis through powerful, flexible workflows.
Learn More
WELL INTERPRETATION SOFTWARE
INTERACTIVE CORRELATIONS (IC)
Enabling confident insight through powerful, flexible visualisation.
Learn More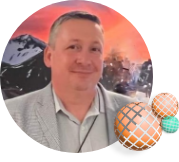 "Our goal is to provide the world with easy-to-consume, intuitive, and technically accurate software solutions for the interpretation and management of all types of subsurface resources that our customers love to use.

We deeply value our people, our culture, and our history. We strongly do not want to be the usual "faceless corporation", only there to squeeze the last cent, but instead, we seek to build strong collaborative bonds with our customers and users. Our friendly, experienced team's primary aim is to ensure that together we ensure the best experience possible to those who utilise our software and services."
Derek Crombie
MD
How We Care for Each Member of Your Team